ACU Focuser
Our range of ACU Focus mounts used on our telescopes and available for sale as separate items.
A range of Contoured Focuser Bases are also available – see bottom of page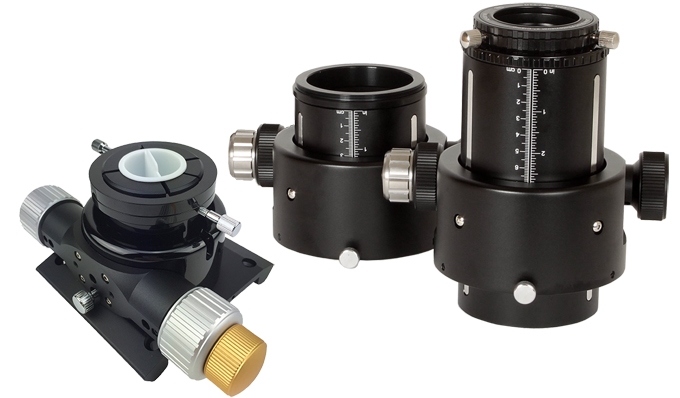 ACU-2S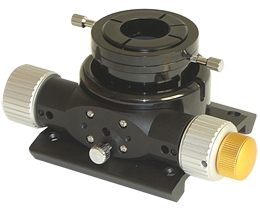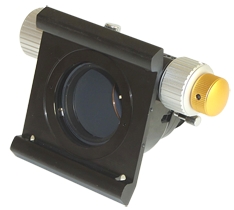 Left. View of ACU-2S with 31.7mm adaptor fitted. Centre. View with 31.7mm adaptor removed. Right. View of underneath of ACU-2S showing where dovetail base on telescope fits and locks.
Our ACU-2S is a high quality 2" (50.8mm) Crayford focuser. Having said that, it is no ordinary focuser, far from it. The actual mechanism is ultra smooth and compares favourably with the much more expensive focusers on the market. We know the smoothness of the movement will astound you, both in its normal focusing speed and, in its lower geared 10:1 ratio micro adjustment for precise focusing with an eyepiece or camera. Our VX and CT ranges of telescopes use the ACU-2 and, it is also available as a separate item to purchase along with the included adaptor. For photography it is ideal for small to medium sized cameras, including DSLR and medium format CCD chips. Locking the knurled knob will tighten the draw tube in the chosen position and no movement is produced to offer, sharp, flawless images.
Incorporated in the ACU-2 is an extendable top section which allows the focuser to be used without the addition of extension tubes in nearly all applications. A 2" to 1" adaptor is also included.
The standard model is supplied with a multi size, square base capable of being fitted directly onto surfaces from flat down to a 200mm dimeter tube. We also have available curved bases to allow fitting to precise tube diameters, see list for details.
Overall, this is an excellent 2" focuser and we guarantee that you will be delighted with its performance both in visual or photographic format..
ACU-3S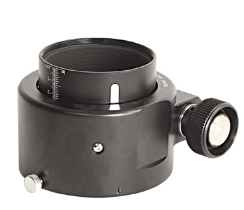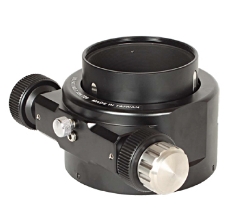 Left. View of ACU-3S with 31.7mm adaptor fitted. Centre. View with 31.7mm adaptor removed. Right. View showing the back of ACU-3S with adaptor removed showing mating threads.
Our ODK series of Optimised Dall Kirkhams is supported by a precision 3" focuser of short draw tube length. The top of the draw tube is threaded to accept many accessories, adaptors and spacing componenets. Silky smooth, incredible strength and attractive looks give you all the reliability and confidence in the ACU-3S you are ever likely to need. 3" internal threaded draw tube (76.2mm) enables wide fields to be achieved with vignetting not being a problem. Ultra accurate 10:1 slow motion control with a smooth, effortless motion which has got to be tried to be believed. Carrying capacity way beyond the requirements of all but the heaviest cameras.
The focuser is connected to our telescopes, and yours if you would like to buy this product for use on your current instrument, by means of a very accurate machined female dovetail which is held onto a male equivalent on the telescope tube or cell with stainless steel grub screws. The beauty of this arrangement is that these screws and dovetail coupling allow you to rotate the focuser through 360 degrees rotation. In other words, to put it in exactly the rotational position you want for the attached equipment fitted, CCD, filter wheels, guiders etc. It just makes it so easy to set things up perfectly to meet your needs.
This feature is available not only on the ACU3S but on the ACU-3L and ACU-2S
ACU-3L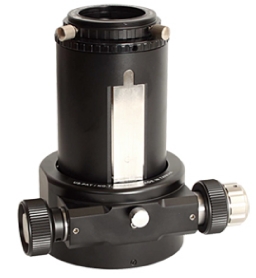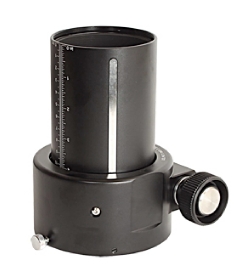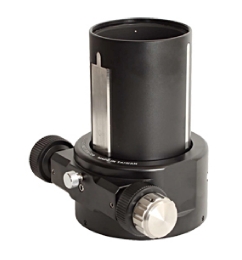 Left: Angled view of ACU-3L showing slow motion knob and standard speed knobs. Centre: Opposite angle view of ACU-3L showing one of the standard speed knobs and locking screw.Right: View of ACU-3L showing stainless steel running plate, locking screw and optional adaptors for 2" eyepieces. Below right: Underside view on ACU-3L showing location points of dovetail base which allows rotation around 360 degrees for customised position.
To improve even further the quality and performance of the AG range, we have introduced a completely new product in our focusers. The model we use on our AG series is our ACU-3L focuser (link). It has a full length draw tube 3" diameter, (76.2mm) internally threaded to accept both our celebrated 3" Wynne corrector and other accessories. These are not just pushed in, they are screwed in by precision threads. This gives an incredible amount of strength and freedom from any flexure, so common in large, push fit focusers. This focuser is also available to be bought as a separate item or inclusive of the Wynne corrector.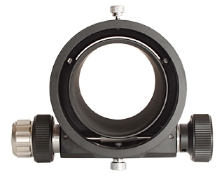 The initial focusing is carried out by the silky smooth main focusing knobs and then, when perfect positioning is required, the slow motion knob with added internal weights takes over to give very, very smooth movement down at a reduced ratio speed of a factor of 10:1, it just glides along at a very smooth, slow and precise pace, you have to actually feel this to appreciate just how good it really is.
Coupled with this smoothness comes strength. The ACU-3L carries most cameras on the market with ease, it really is a design which lends, smoothness, attractiveness and power which ensures you have no problems at all with this focuser.
For clients wishing to have the most rigid and repeatable focusing set up possible, we offer to fit the FLI Atlas digital focuser where customers so require. This equipment is the last word in quality and stability which can even be taken to a higher level by incorporating our Focus-Form platform (see image right) which adds geometric stability for even the heaviest cameras.