CNC Tube Rings
We manufacture 2 types of Tube rings: CNC and ROLLED – both kinds are featured on this page.
To give maximum security and exactness, we manufacture on our CNC milling machines, aluminium tube rings which are machined from solid pieces of aluminium and later black anodised to protect the surface which are felt lined to give a gentle but firm grip to the polished tubes. Pressure adjustment is made by the large knurled knob on each tube ring to give precise amounts of friction on the tube outer surface. See buying options below. Click on a Price to Buy. Prices shown are for a Pair of Tube Rings (2 rings).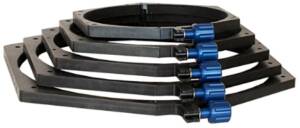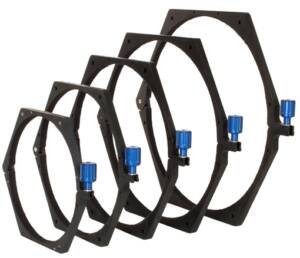 Rolled Tube Rings
Rolled Tube Rings are made from Aero Grade Aluminium and rolled to tight tolerances to ensure a snug fit to suit the tubes. They are powder coated with textured black gloss resin and the tensioning screws are machined threaded latches which can be adjusted to suit the exact tube diameter you are using. Adjusting the tension correctly will enable you to rotate your tube into a more convenient, comfortable viewing position.
(To secure our VX range of telescopes to their respective mountings, we use these sets of rolled aluminium tube rings, cradles). We also make many different custom sizes for customers, a little more expensive but overall a safe and reliable method of enabling your tube to be held firmly but still able to be rotated to be used in an ideal viewing position for you. There are a few of these sizes listed in the table below but we can make any size from 120mm tube size up to 600mm. If you let us know by email your measured tube circumference, we will quote you to make any number of tube rings to that size you may need. See buying options opposite. Click on a Price to Buy.